Post

10. 01. 2018
Carbonization
One example is the refining technique of carbonizing, which would at first glance appear to be a violent attack on the surface of the wood. If the tree has always been a symbol of life and growth, the art of carbonizing is to make this original power visible—and to read the life history of the tree not only when it is cut open, but also to see the tree trunk from the outside. Selecting the right material is the starting point for a process chain with several links: the first step is undertaken with a carpenter's plane, next the chain saw is applied. This gives the flat area a distinctive structure. Then the board undergoes a journey through the fire: the surface of the wood is worked with the Bunsen burner until the top layer is charred. By burning and subsequent brushing, the hard parts of the wood remain, the soft are removed. Cracks, knotholes and the traces of the chainsaw run smoothly into each other and leave a highlighted wooden structure full of character. Refined with different methods and sealed with natural resin oil, the result is a hard, resistant surface in different colors and with an exciting feel that wants to be touched.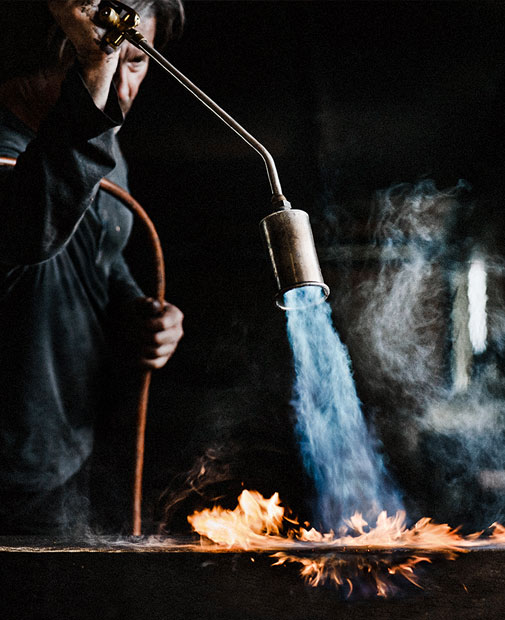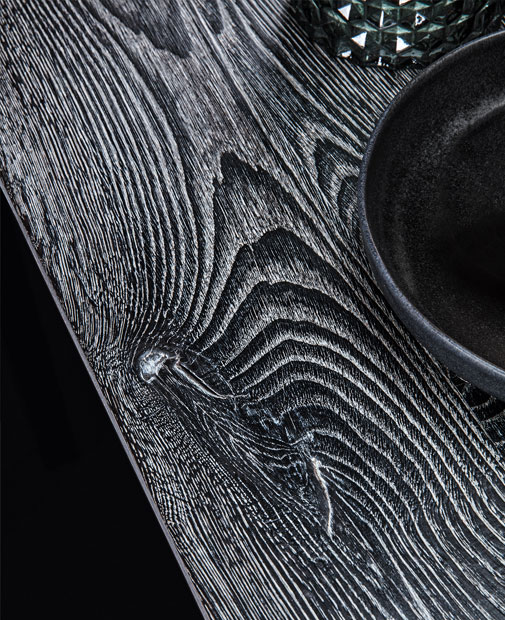 Baptism of fire
The products and unique surfaces and S tefan Knopp's sustainably designed working method accurately reflect the philosophy of Janua. A meaningful cooperation — the Stefan Knopp Edition from and for Janua.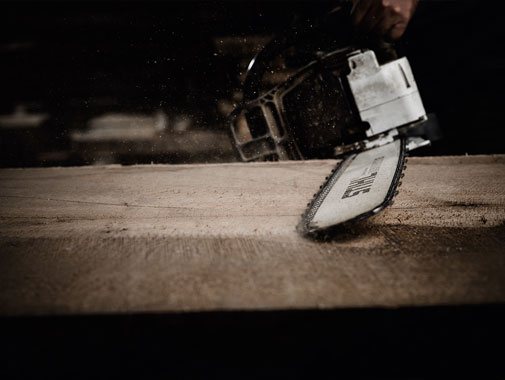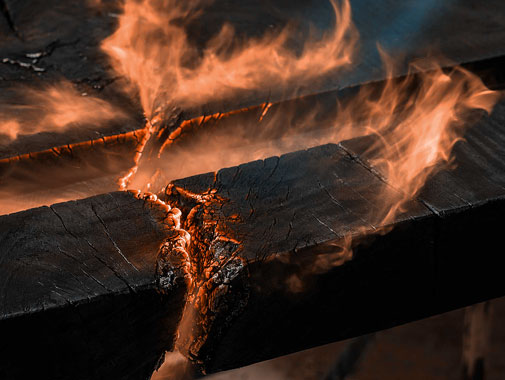 We turns the power of nature into an object of art and pays tribute to the oldest material in the world—by means of a manufacturing process that emphasizes the character of the wood instead of destroying it. Each piece of furniture embodies the peculiarities of the tree from which it is derived. But while the technique of surface refinement by carbonizing is currently entering German interior design with force, this is not a new process. It has been used since antiquity to conserve wood and protect it from decay and from insects.
#charburnedoak
But back to Germany, to Bavaria, to Janua: it takes Stefan Knopp around sixty hours of labor, to work the special character out of an oak plank for a monolith table. "For me, time means a concentrated dedication to my work," he says. It is only with intense commitment to his task that he can do justice to a tree's natural growth over decades—a tree that passes through fire under his hands, and through this achieves a distinctively strong character.